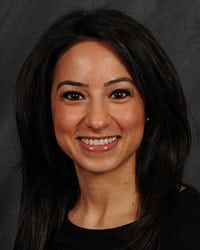 Dr. Jocelyne Abi-Nahed
Dr. Jocelyne Abi-Nahed was born and raised in Montreal. She received her Doctor of Dental Medicine (D.M.D.) at the University of Montreal. Following this, she completed a residency program at the Montreal Children's Hospital, where she worked with children with craniofacial deformities. She then completed a Master's degree in Dental Public Health at the University of Toronto and worked for Health Canada. Dr. Abi-Nahed graduated from the Orthodontics Program at the University of Rochester Medical Center/Eastman Institute for Oral Health and is a certified Fellow of the Royal College of Dentists of Canada.
Caring, honest, and energetic, Dr. Abi-Nahed enjoys sports, outdoor activities, and traveling in particular when shared with friends and family.